CHAIR

David B. Nash, MD, MBA, FACP
Dean, Jefferson College of Population Health, Thomas Jefferson University, Philadelphia, PA
2019 HEARST HEALTH PRIZE –
CALL FOR SUBMISSIONS OPEN

We are excited to announce that we are now accepting applications for the
2019 Hearst Health Prize!
The winner will receive a $100,000 prize in recognition of outstanding achievement in managing or improving population health. Up to two finalists will receive a cash award of $25,000 each.
The Hearst Health Prize, in partnership with the Jefferson College of Population Health (JCPH), was created to help identify and promote promising initiatives in the field that improve health outcomes. The goal is to discover, support, and showcase the work of an individual, group, or institution that has successfully implemented a population health program that has made a measurable difference. To learn about previous finalists and winners
click here
.
Finalists will be invited to present their project during a special poster session at the
Population Health Colloquium
in Philadelphia,
March 18-20, 2019
. The winner of the prize will be announced during the opening session of the Population Health Colloquium on March 19, 2019.
To apply or learn more about the Hearst Health prize visit:
Jefferson.edu/HearstHealthPrize
. The deadline to submit an application is
Thursday, August 9, 2018, 3:00 PM (EDT)/12:00 Noon PM (PDT)
.
Please share this amazing opportunity with your colleagues!
PARTICIPATION OPTIONS
TRADITIONAL ONSITE ATTENDANCE
Simply register, travel to the conference city and attend in person.
Pros: subject matter immersion; professional networking opportunities; faculty interaction

LIVE AND ARCHIVED WEBCAST PARTICIPATION
Watch the conference in live streaming video over the Internet and at your convenience at any time 24/7 for the six months following the event.
The archived conference includes speaker videos and coordinated PowerPoint presentations.
Pros: Live digital feed and 24/7 Internet access for next six months; Accessible in office, at home or anywhere worldwide with Internet access; Avoid travel expense and hassle; No time away from the office.


WEBCAST INTERFACE SAMPLE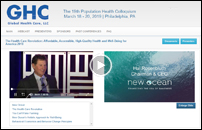 Click here for a sample stream