CONFERENCE CHAIR DAVID NASH, MD
INVITES YOUR INPUT ON 20TH ANNIVERSARY
POP HEALTH COLLOQUIUM AGENDA
KEYNOTE SPEAKERS

Jeffrey Brenner, MD
Senior Vice President of Integrated Health and Human Services, UnitedHealthcare Community & State, Founder and Former Executive Director, Camden Coalition of Healthcare Providers, MacArthur Genius Award Winner, Camden, NJ

Laura S. Kaiser, MBA, MHA
President and Chief Executive Officer, SSM Health, Former Executive Vice President and Chief Operating Officer, Intermountain Healthcare, Saint Louis, MO

Kerry Kennedy, JD, Numerous Honorary Doctorates
President, Robert F. Kennedy Human Rights, Author of New York Times best-seller, Being Catholic Now, Speak Truth to Power, and Robert F. Kennedy; Ripples of Hope, Recipient, Humanitarian Award, Congress of Nobel Peace Prize Laureates, New York, NY

Bernadette Minton, MS
Senior Director of Data Science Solutions, MCG Health, Former Senior Director, Enabling Technologies, Providence St. Joseph Health, Los Angeles, CA

Kavita Patel, MD
Nonresident Senior Fellow, Brookings Institution, Member, Physician-Focused Payment Model Technical Advisory Committee (PTAC), Former Director of Policy, The White House (Obama), Former Senior Advisor, Senator Edward Kennedy, Washington, DC

Robert M. Pearl, MD
Author, Mistreated: Why We Think We're Getting Good Healthcare–And Why We're Usually Wrong, Contributor, Forbes, Lecturer, Stanford University Graduate School of Business, Former Executive Director and CEO, The Permanente Medical Group, San Francisco, CA

Craig E. Samitt, MD, MBA
President & Chief Executive Officer, Blue Cross Blue Shield Minnesota, Former EVP, Chief Clinical Officer & President Diversified Business Group, Anthem, Inc., Former President & CEO, HealthCare Partners And Dean Health System, Saint Paul, MN

William H. Shrank, MD, MSHS
Chief Medical Officer, Humana, Former Director of Evaluation, Innovation Center, Centers for Medicare and Medicaid Services, Louisville, KY

Donato Tramuto
Chief Executive Office, Tivity Health, Former CEO & Board Chair, Physicians Interactive (now Aptus Health), Former CEO, i3 (Division of UnitedHealth Group), Nashville, TN

Robert Wachter, MD
Chair and Professor, Department of Medicine, University of California at San Francisco, Author, The Digital Doctor: Hope, Hype, and Harm at the Dawn of Medicine's Computer Age and Internal Bleeding: The Truth Behind America's Terrifying Epidemic of Medical Mistakes, San Francisco, CA
A SPECIAL EVENING DINNER PROGRAM WITH

Paul Dagum, MD, PhD
Founder & CEO, Mindstrong Health, Former Head of Technology, Elementum, Former Chief Technology Officer, MarkMonitor, San Francisco, CA

Stephen K. Klasko, MD, MBA
President and Chief Executive Officer, Thomas Jefferson University and Jefferson Health, Philadelphia, PA

Othman Laraki, MS, MBA
Co-founder & CEO, Color Genomics, Board, Frontier Medicines & ESI Group, San Francisco, CA

Jennifer Schneider, MD, MS
President, Livongo, Former Chief Medical Officer, Castlight Health, Calistoga, CA
FEATURED FACULTY

Brenda Reiss Brennan, PhD, APRN, CS
Chief Clinical Science Officer, Alluceo, Former Mental Health Integration Leader, Primary Care Clinical Programs, Intermountain Health Care, Salt Lake City, UT

Gregory Dorn, MD, MPH
President, Hearst Health, San Francisco, CA

Joe Finn, MA, JD
President and Executive Director, Massachusetts Housing and Shelter Alliance (MHSA), Former Executive Director, Shelter, Inc. and Father Bill's Place, Quincy, PA

Suzi Johnson, MPH, RN
Chief Operating Officer, National Hospice and Palliative Care Organization (NHPCO), Former Vice President, Sharp Hospice and Palliative Care, Sharp HealthCare, Alexandria, VA

Tom Wroth, MD, MPH
Executive Vice President and Chief Medical Officer, Community Care of North Carolina, Chapel Hill, NC
2020 HEARST HEALTH PRIZE CALL
FOR SUBMISSIONS IS CLOSED!

Fifth Annual Competition Awards $100,000 to Winner and $25,000 to Finalists for Outstanding Population Health Programs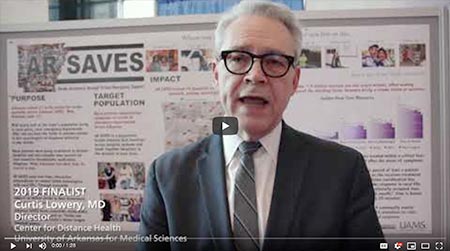 Key Dates for the 2020 Hearst Health Prize:
January 2020: Finalists notified

March 30, 2020: Finalists will present their work at a poster session at the 20th annual Population Health Colloquium in Philadelphia

March 31, 2020: Winner of the $100,000 Hearst Health Prize will be announced at the Population Health Colloquium
THE 2019 NINETEENTH POPULATION HEALTH
COLLOQUIUM CONTENT IS NOW AVAILABLE
IN VARIOUS POST CONFERENCE FORMATS
The Nineteenth Population Health Colloquium conference content is now available in a variety of formats.
You may purchase the Summit streaming content in the following formats: Flash Drive or online archive (6 months).
YOU CAN PURCHASE JUST THE NINETEENTH POPULATION HEALTH COLLOQUIUM CONTENT AS FOLLOWS:
Online Archive of the Nineteenth Population Health Colloquium Presentations!
Complete conference: $195

Flash Drive of the Nineteenth Population Health Colloquium Presentations!
$195
PARTICIPATION OPTIONS
TRADITIONAL ONSITE ATTENDANCE
Simply register, travel to the conference city and attend in person.
Pros: subject matter immersion; professional networking opportunities; faculty interaction

LIVE AND ARCHIVED WEBCAST PARTICIPATION
Watch the conference in live streaming video over the Internet and at your convenience at any time 24/7 for the six months following the event.
The archived conference includes speaker videos and coordinated PowerPoint presentations.
Pros: Live digital feed and 24/7 Internet access for next six months; Accessible in office, at home or anywhere worldwide with Internet access; Avoid travel expense and hassle; No time away from the office.


WEBCAST INTERFACE SAMPLE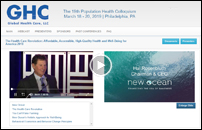 Click here for a sample stream