KEYNOTE SPEAKERS

Chris Allen, MHSA, FACHE
President and Chief Executive Officer, Detroit Wayne County Health Authority, Former EVP and COO, Hutzel Hospital, Former Corporate VP, Management Services, Detroit Medical Center, Detroit, MI

Evan M Benjamin, MD, MS
Chief Medical Officer, Ariadne Labs, Professor of Medicine, Tufts University School of Medicine, Boston, MA

Niki Ozment Buchanan, MA
Population Health General Manager, Philips, Atlanta, GA

Gregory Dorn, MD, MPH
President, Hearst Health, South San Francisco, CA

Michael J. Dowling
Chief Executive Officer and President, Northwell Health, Former Senior Vice President, Empire Blue Cross and Blue Shield, Former Director, New York State Department of Health, New York, NY

Stephen K. Klasko, MD, MBA
President and Chief Executive Officer, Thomas Jefferson University and Jefferson Health, Philadelphia, PA

Michael Leavitt
Founder and Chairman, Leavitt Partners, Former Secretary, US Department of Health and Human Services, Former Governor, Utah, Salt Lake City, UT

Andrew Renda, MD, MPH
Director, Bold Goal (Population Health) Pilots, Measurement, Insights & Communications, Office of the Chief Medical Officer, Humana, Louisville, KY

Hal F. Rosenbluth
Chairman and Chief Executive Officer , New Ocean Health, Former President, Health and Wellness Division, Senior Executive Officer, Walgreen Co., Former Chairman, Take Care Health Systems, Conshohocken, PA

David J. Shulkin, MD
Secretary, US Department of Veterans Affairs, Former Chief Medical Officer, University of Pennsylvania Health System,, Temple University Hospital, and the Medical College of Pennsylvania Hospital, Founded and Former Chairman and CEO, DoctorQuality, Washington, DC

Mark D. Smith, MD, MBA
Clinical Faculty, University of California, San Francisco, Attending Physician, Positive Health Program for AIDS Care, San Francisco General Hospital, Co-chair, Guiding Committee, Health Care Payment Learning and Action Network, Founding CEO, California Health Care Foundation, San Francisco, CA
FEATURING TRACKS ON


Innovation and Precision Medicine

Population Health for Special
Populations


Consumer/Patient Engagement

Global Health

IT/Analytics
FEATURED FACULTY

Richard J. Derman, MD, MPH
Associate Provost, Global Affairs and Director, Global Health Research, Thomas Jefferson University, Philadelphia, PA

Maren Fragala, PhD
Director, HealthyQuest, Quest Diagnostics, Madison, NJ

Steven Goldberg, MD, MBA
Chief Population Health, Quest Diagnostics, Clinician, Kentuckiana Medical Center, Louisville, KY

Amy Nguyen Howell, MD, MBA
Chief Medical Officer, CAPG, the Voice of Accountable Physician Groups, Los Angeles, CA

Jack Ludmir, MD
Senior Vice President of Physician Engagement and Integration, and Associate Provost for Community and Global Initiatives, Thomas Jefferson University, Philadelphia, PA

Martin A. Lupinetti, MBA
Executive Director, HealthShare Exchange, Philadelphia, PA

Rose Madden-Baer, DNP, MHSA
Senior Vice President, Population Health and Clinical Support Services, Visiting Nurse Service of New York, New York, NY

Wendi Mader, MA
Director, Marketing and Strategy, Health & Wellness, Quest Diagnostics, Denver, CO

Ignazio R. Marino, MD, ScD
Professor of Surgery, Sidney Kimmel Medical College, Thomas Jefferson University, Strategic Advisor to the President and CEO, Thomas Jefferson University and Jefferson Health, Former Mayor, Rome, Italy, Former Chair, Health Committee, Senato della Repubblica Italiana, Philadelphia, PA

Susan Northover, RN, MHA
Senior Vice President of Patient Care Services, Visiting Nurse Service of New York, New York, NY

Christopher T. Olivia, MD
President and Chief Executive Officer, Visiting Nurse Service of New York, New York, NY

John W. Peabody, MD, PhD
President, QURE Health, Professor, UCSF, School of Medicine, Professor, UCLA School of Public Health, San Francisco, CA

Stewart Sill, MS
Senior Health Advisor, Consumer Health Strategy, IBM Watson Health, Durham, NC

Allison W. Suttle, MD, MBA
Senior Vice President, Chief Medical Officer, Sanford Health, Sioux Falls, SD

Chris Vannello, RN
Director of Quality Improvement, Rothman Institute, Philadelphia, PA

Jay G. Wohlgemuth, MD
Senior Vice President, R&D, Medical and Chief Medical Officer, Quest Diagnostics, Senior Vice President & Chief Healthcare Officer, HealthTap, San Juan Capistrano, CA
2018 HEARST HEALTH PRIZE FOR EXCELLENCE IN
POPULATION HEALTH SUMBISSIONS ARE NOW CLOSED

The 2018 Hearst Health Prize for Excellence in Population Health will be award at the Colloquium. The winner will receive a $100,000 prize in recognition of outstanding achievement in managing or improving population health. Up to two finalists will receive a cash award of $25,000 each!


Finalists will present their programs at a special evening poster session on March 19, 2018

Winner will be announced on March 20, 2018 at the Population Health Colloquium in Philadelphia

For more information, please visit www.Jefferson.edu/HearstHealthPrize.
EIGHTEENTH POPULATION HEALTH COLLOQUIUM
ONSITE
March 19 – 21, 2018
Loews Philadelphia Hotel
Philadelphia, PA
OR WEBCAST
In your own office or home live via the Internet
with 24/7 access for six months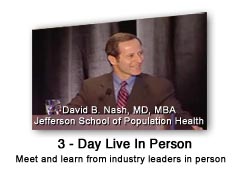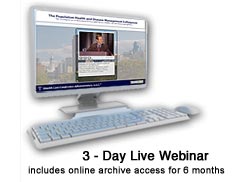 PARTICIPATION OPTIONS
TRADITIONAL ONSITE ATTENDANCE
Simply register, travel to the conference city and attend in person.
Pros: subject matter immersion; professional networking opportunities; faculty interaction

LIVE AND ARCHIVED WEBCAST PARTICIPATION
Watch the conference in live streaming video over the Internet and at your convenience at any time 24/7 for the six months following the event.
The archived conference includes speaker videos and coordinated PowerPoint presentations.
Pros: Live digital feed and 24/7 Internet access for next six months; Accessible in office, at home or anywhere worldwide with Internet access; Avoid travel expense and hassle; No time away from the office.


WEBCAST INTERFACE SAMPLE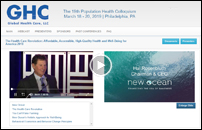 Click here for a sample stream