JEFFERSON DEAN DAVID NASH, MD
INVITES YOUR INPUT ON 20TH ANNIVERSARY
POP HEALTH COLLOQUIUM AGENDA
2020 HEARST HEALTH PRIZE CALL
FOR SUBMISSIONS IS NOW OPEN!

Fifth Annual Competition Awards $100,000 to Winner and $25,000 to Finalists for Outstanding Population Health Programs
Submissions deadline: Friday, August 9, 2019, 3:00 pm ET, 12:00 pm PT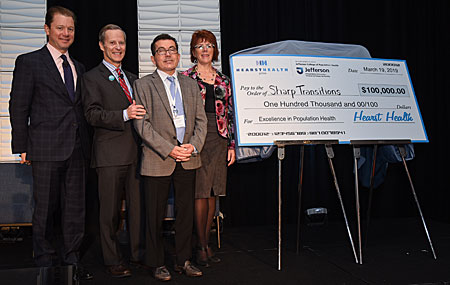 Applications will be evaluated by faculty at the
Jefferson College of Population Health
and a distinguished panel of judges. Each submission will be scored based on the program's:
Population health impact or outcome, demonstrated by measurable improvement

Use of evidence-based interventions and best practices to improve the quality of care or services provided

Promotion of communication, collaboration and engagement

Scalability and sustainability

Innovation
Key Dates for the 2020 Hearst Health Prize:


August 9, 2019: Closing date for submissions at 3 p.m. ET / 12 p.m. PT

January 2020: Finalists notified

March 30, 2020: Finalists will present their work at a poster session at the 20th annual Population Health Colloquium in Philadelphia

March 31, 2020: Winner of the $100,000 Hearst Health Prize will be announced at the Population Health Colloquium
THE 2019 NINETEENTH POPULATION HEALTH
COLLOQUIUM CONTENT IS NOW AVAILABLE
IN VARIOUS POST CONFERENCE FORMATS
The Nineteenth Population Health Colloquium conference content is now available in a variety of formats.
You may purchase the Summit streaming content in the following formats: Flash Drive or online archive (6 months).
YOU CAN PURCHASE JUST THE NINETEENTH POPULATION HEALTH COLLOQUIUM CONTENT AS FOLLOWS:
Online Archive of the Nineteenth Population Health Colloquium Presentations!
Complete conference: $195

Flash Drive of the Nineteenth Population Health Colloquium Presentations!
$195